The ruby slippers played a major part in the making of MGM's The Wizard of Oz. We have probably all watched Judy Garland as Dorothy walk down the Yellow Brick Road with her sparkling ruby slippers more times than we'd like to admit. It really is a timeless classic and the ruby slippers is stunning.

When making our ruby slippers, we hand-fashion them to the original design on Judy Garland's feet in 1939 and not as old as they appear today. Attempting to replicate the exact copy of the ruby slippers is by no means an easy feat and only very few people in the world have this skill.

In order to create a high quality exact replica, it takes research, it takes practice, and more importantly it takes careful concentration because we're dealing with tiny synthetic jewels that needs to be sewn onto the bows and thousands of individual sequins are sewn onto the shoes, so it's a time-consuming project.

Some of materials we use are quite rare. Not everything is readily available at a local shop or on the internet and requires custom-made through our friend in Randy Struthers, and we also make materials ourselves such as the base shoes and heels.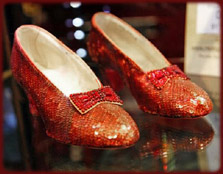 Judy Garland's authentic hand-made
reproduction ruby slippers


The base shoes of our ruby slippers are made from Judy Garland's size 5B shoe last. You won't find them anywhere else because they are made ourselves to fit the superstar singer-actress.

The original pair worn by Judy Garland as Dorothy in the Munchkinland scenes is sexier than other pairs of ruby slippers made for The Wizard of Oz in that the heels are longer and the oval shape toe box part of the shoes is more slim and pointy, and this is obvious when she lifts her feet in the close-up shot.

Please click here to visit our website:
Judy Garland's Shoes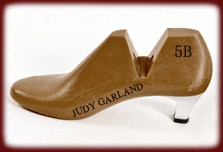 These are not your ordinary ruby slippers that you see every day. They are hand sewn, they are high quality, and they are an exact replica of the original ruby slippers.





Screencaps from
The Wizard of Oz
(1939 color film).





Judy Garland's Ruby Slippers is our sister website dedicated to bringing you the most beautiful pair of shoes worn by the most beautiful actress in movie history.





Follow us on our Facebook page to keep yourself updated on our project with the ruby slippers.